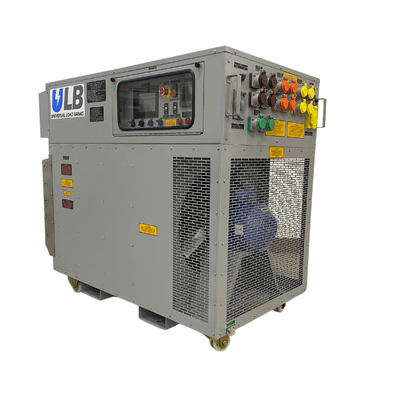 R500 Portable Load Bank
The R500H portable load bank is the new standard for power system testing. Providing a full 500 kW at 240/480V, the R500H will also provide 375 kW at 208/415V. Designed for continuous indoor or outdoor operation the R500H is the ideal choice for load testing in rugged Service or Rental environments.
Reliable operation with proven digital HMI controls makes the R500H the perfect solution for comprehensive load testing in Mission Critical and other power source applications.
Contact Sales
Technical Details

Physical Specifications & Inbuilt Safety

Features & Benefits

Options

Applications

Downloads
Technical Details
Load Bank
R500H Series, Self-Contained, Indoor/Outdoor Portable Load Bank
Load Rating
Rating: 500kW, Voltage: 480 VAC, Phase: 3 phase, Frequency: 60 Hz, Load Step Resolution: 5kW
Rating: 500kW, Voltage: 240 VAC, Phase: 3 phase, Frequency: 60 Hz, Load Step Resolution: 5kW
Rating: 375kW, Voltage: 208 VAC, Phase: 3 phase, Frequency: 60 Hz, Load Step Resolution: 3.75kW
Rating: 345kW, Voltage: 400 VAC, Phase: 3 phase, Frequency: 50 Hz, Load Step Resolution: 3.5kW
Rating: 335 kW, Voltage: 240 VAC, Phase: 1 phase, Frequency: 60 Hz, Load Step Resolution: 3.3kW
Install Type
Portable, Indoor Use, Outdoor Use
Cooling System
Air Cooled, Horizontal Airflow
Physical Specifications & Inbuilt Safety
Approx. Dimensions
33.2 W x 62.7 D x 55.5 H (inches)
84.5 W x 159.4 D x 140 H (cm)
Inbuilt Safety Features
Over-voltage/under-voltage/voltage Imbalance protection
3 Phase current imbalance protection
Cooling-air loss protection
Over-temperature protection
Internal Fuses for Resistive load element groups
Features & Benefits
UL & cUL Listed – Guaranteed Quality
Digital Controls using In-built PLC – Ease of Operator use, Profile loading, Data Logging
Local HMI Touch screen – Reliable, Ease of operation from one screen
Color coded Cam Locks – Ease of Cable Connections & No special tools required.
Powder Coating – Corrosion Prevention and Durability
Forklift Pockets & Caster Wheels – Easily movable by one person
Comprehensive Safety Circuits – Superior protection of Load Bank / Reliability
Nichrome "HeliCon" load elements, supported by SS rods – Reliability and Extend Life
Multiple Load Banks can be daisy chained – A networked string of load banks increases over all capacity for testing flexibility
Options
Transport Cages
Automated Control
Certified Drawings
Remote Control
Special Colors
Utility Trailer Mounting
Applications
Data Center / Colocation etc.
Backup Generators
Emergency facilities – Health Care
Manufacturing
Telecom
Banking, Finance and Insurance
Service & Rental
Downloads